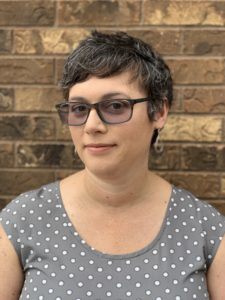 I am an Assistant Professor of English & English Education at Truman State University where I teach courses in the Masters of Education program in English education, and English courses in Young Adult Literature, folklore, and queer theory. I also facilitate our Safe Zone trainings with the help of student interns.
My work centers on social justice education, with a particular focus on positive representations of intersectional queer communities.
My research and teaching interests include English education; social justice education; critical literacies; new literacies; queer theory and pedagogy; Young Adult literature; critical theory; and qualitative methods.
Pronouns: she/her
Contact
Email: spennell@truman.edu
Twitter: @summerpennell
ORCiD ID: https://orcid.org/0000-0003-2112-4830
Spring 2020 office hours:
McClain 326: Tuesday 3:00- 4:20, Thursdays 9:30- 10:20 and 3:00- 4:20 pm
Walking office hours at rec center track: Wednesday 12:30- 1:30 (1:20 on days with department meetings). Use these for talking something through, not looking at a paper.
Other times (in person or virtually via zoom) by appointment.